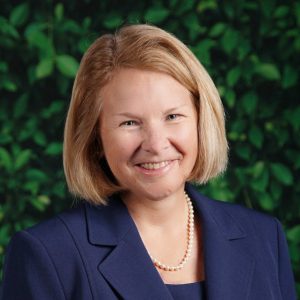 ROTARIAN OF THE WEEK
Connie Maguire, Club Member since 2005
Connie is a lifelong Palisadian and has dedicated her career to the non-profit sector. She began her nonprofit career at age 15 as a camp counselor at St. Matthew's Day Camp. After earning a degree in Physical Education from Cal State Long Beach, she took a job at the Palisades YMCA that developed into an 18 year career with the YMCA of Metropolitan Los Angeles, culminating in serving as an executive director at multiple branches.
In 2000, she transitioned her career into consulting, joining Netzel Grigsby Associates founded by Paul Netzel, member of LA 5 Rotary Club and past president of the Rotary International Foundation. As a senior vice president with NETZEL GRIGSBY ASSOCIATES, Connie has led organizations through successful major gifts, capital, endowment, and comprehensive campaigns ranging from $3 to $100 million in size.
Two of Connie's recently completed projects include the Collins and Katz Family YMCA, that is now open and serving the West Los Angeles Community, and Jewish Family Service of Los Angeles. whose facility is under construction. In 2014, Connie completed a long time dream to go back to school for a master's degree, earning a degree in business management from Azusa Pacific that has supported her in becoming her firm's specialist in strategic planning and organizational development services.
Connie is a past president of our club. Her year, 2016-17, is fondly recalled as the year of the Irish and our final memorable year at Riviera Country Club. Every meeting, she greeted us with a warm welcome: Slainte'! and welcome to another meeting of the Rotary Club of Santa Monica.