ROTARIAN OF THE WEEK  –  Karin Wallerstein, Club Member since 2021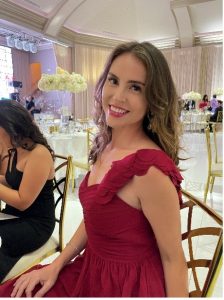 I'm Karin Wallerstein and I live in Venice, CA. I am the first generation of my Polish family to be born in the USA. Polish is actually my first language which I am fluent in to this day. I am happily married to my husband of 6 years however we have been together for almost 18 years, having met as bright-eyed interns in Washington, D.C. one hot & humid summer in 2004.
I was born and raised in Jersey City, NJ. I attended Rutgers University where I received my Bachelor Degree in Criminal Justice. With that interest in mind, I went on to earn a Master's Degree in Criminal Justice & Research from John Jay College in New York City and have been published in "The Encyclopedia of Gangs". I have previously worked in the Criminal Justice Research Division of SANDAG (San Diego Association of Governments) as a Research Technician interviewing detainees about their drug use history and using the information to inform the community about what services were needed to address these issues.
Keeping that research passion of mine with me always, I have shifted gears since and am currently a Notary Public, co-manage 3 Air B&B Rentals in the Venice Beach area with my husband and take on free-lance research opportunities from time to time. I have recently joined the Rotary Club of Santa Monica in order to become more involved in community service and to meet new people. I am also active in the Venice Chamber of Commerce and a member of various fitness clubs in town as well as one of the leaders of a book club formed with my friends. I enjoy reading, writing, dancing, exercising, cooking, traveling the world with my husband and meeting new people while learning more from all the people in my life.